For Arabs, Chinese, and Hindus (collection of papers)
Tempo di lettura:
oltre due ore
36 visite dal 25/04/2018, l'ultima: 4 mesi fa.
Descrizione: This folder is creative revision of materials put in the CIS-folder but this is not translation, this is adaptation to the new auditory, and is intended to give initial ideas about the best world language, which is ... Bulgarian, up to my word!
Incipit: Here I not only try to present this language to you, but also to convince you that it is a must to begin to learn it, because you have nearly no other alternative, the widely used English language is just bad! So that, please, find some time to read these things, the questions are very important for all of you.// Dear reader, this collection is for you,/ Be you Arab, Chinese, or — why not? — Hind`oo,/ It's about language for the world as whole,/ Which is easy, nice, best choice, and water holds.
(se
Leggi e ascolta
non funziona bene,
←
clicca e scarica il documento originale (

info
))
Recensioni
:
0
di visitatori,
0
totali.
Vuoi pubblicare il primo commento per questa opera? Scrivi qui la tua recensione o commento...
Nota: Scrivere recensioni e commenti alle opere è uno dei motori principali di questo portale artistico. È solo grazie a esse che, infatti, gli autori possono migliorarsi e i visitatori orientarsi. Se sei un autore, inoltre, scrivere recensioni e commenti a opere altrui incentiverà i destinatari a fare altrettanto con le tue.
Nota: le recensioni e i commenti devono essere lunghi almeno 30 battute e devono riguardare il contenuto dell'opera, meglio se critiche, costruttive e collaborative. Saranno eliminate dallo Staff le recensioni se saranno: offensive, volgari, chiacchiere e (se scritte da visitatori) presunte autorecensioni dell'autore o banali "bello, mi è piaciuto".
Nota: le recensioni e i commenti sono tuoi e modificabili per 2 giorni, dopodiché diventeranno di proprietà dell'autore che hai recensito o commentato.

NO JAVASCRIPT
NO BUTTON
Recensisci / commenta
un'opera a caso
.
Nota: per vedere un'opera a caso di un particolare genere, entra nell'elenco dei generi e scegli la tipologia desiderata.
L'Opera è messa a disposizione dall'autore sulla base della presente licenza: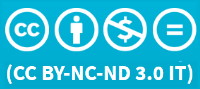 (Licenza di default del sito)
Elenco delle opere che condividono una o più tag con questa opera
Nota: vi invitiamo a
Questo indirizzo email è protetto dagli spam.
Attiva JavaScript per vederlo. eventuali termini o contenuti illeciti, scurrili o errati che potrebbero essere sfuggiti al controllo degli Autori o dello Staff.