From Bulgarian Language To Worldwide Alphabet
72 visite dal 04/11/2020, l'ultima: 1 settimana fa.
Descrizione: In English. This is English adaptation of my latest ideas for worldwide alphabet going out from Bulgarian language as the better from all Slavonic (& other) languages. From now on this material becomes the first on the topic.
Incipit: The topic of this material isn't new for me, it has a history of more than 10 (rather 20) years and I have dedicated to it several materials, both in English and Russian, like, in the beginning "An Illiterate World", after some time "Myrski's English transliteration", then a whole folder in Russian titled "Для всех СНГ-ейцев " ("For All CIS People"), and later on adapted folder of the former titled "For Arabs, Chinese, and Hindus (the best world language". …
Recensioni
:
0
di visitatori,
0
totali.
Vuoi pubblicare il primo commento per questa opera? Scrivi qui la tua recensione o commento...
Nota: Scrivere recensioni e commenti alle opere è uno dei motori principali di questo portale artistico. È solo grazie a esse che, infatti, gli autori possono migliorarsi e i visitatori orientarsi. Se sei un autore, inoltre, scrivere recensioni e commenti a opere altrui incentiverà i destinatari a fare altrettanto con le tue.
Nota: le recensioni e i commenti devono essere lunghi almeno 30 battute e devono riguardare il contenuto dell'opera, meglio se critiche, costruttive e collaborative. Saranno eliminate dallo Staff le recensioni se saranno: offensive, volgari, chiacchiere e (se scritte da visitatori) presunte autorecensioni dell'autore o banali "bello, mi è piaciuto".
Nota: le recensioni e i commenti sono tuoi e modificabili per 2 giorni, dopodiché diventeranno di proprietà dell'autore che hai recensito o commentato.

NO JAVASCRIPT
NO BUTTON
Recensisci / commenta
un'opera a caso
.
Nota: per vedere un'opera a caso di un particolare genere, entra nell'elenco dei generi e scegli la tipologia desiderata.
L'Opera è messa a disposizione dall'autore sulla base della presente licenza: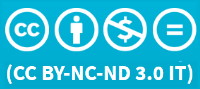 (Licenza di default del sito)
Elenco delle opere che condividono una o più tag con questa opera
Nota: vi invitiamo a
Questo indirizzo email è protetto dagli spam.
Attiva JavaScript per vederlo. eventuali termini o contenuti illeciti, scurrili o errati che potrebbero essere sfuggiti al controllo degli Autori o dello Staff.