Now, Look Here (publicistics — in three volumes)
Tempo di lettura:
oltre due ore
49 visite dal 18/04/2018, l'ultima: 2 settimane fa.
Descrizione: Here are 3 volumes of my publicistics, consisting of 4 sections: "For Journals", "For Newspapers", "Feuilletons", "Others", which comprises very big period of time, from about 1990 and till 2017, when I decided to put an end to this enormous book.
Incipit: This book contains all my publicistic works, written in the period of Bulgarian transition to democracy, which has begun in 1989, but has not ended for nearly 30 years, judging by our rates of development and the muddle in which we state. Still, even to the year 2000 was accumulated certain amount of things, so that I decided to gather them in one place. Based on the time in which I have written them, it is normally to expect that they will deal mainly with the democratic phenomenon …
Recensioni
:
0
di visitatori,
0
totali.
Vuoi pubblicare il primo commento per questa opera? Scrivi qui la tua recensione o commento...
Nota: Scrivere recensioni e commenti alle opere è uno dei motori principali di questo portale artistico. È solo grazie a esse che, infatti, gli autori possono migliorarsi e i visitatori orientarsi. Se sei un autore, inoltre, scrivere recensioni e commenti a opere altrui incentiverà i destinatari a fare altrettanto con le tue.
Nota: le recensioni e i commenti devono essere lunghi almeno 30 battute e devono riguardare il contenuto dell'opera, meglio se critiche, costruttive e collaborative. Saranno eliminate dallo Staff le recensioni se saranno: offensive, volgari, chiacchiere e (se scritte da visitatori) presunte autorecensioni dell'autore o banali "bello, mi è piaciuto".
Nota: le recensioni e i commenti sono tuoi e modificabili per 2 giorni, dopodiché diventeranno di proprietà dell'autore che hai recensito o commentato.

NO JAVASCRIPT
NO BUTTON
Recensisci / commenta
un'opera a caso
.
Nota: per vedere un'opera a caso di un particolare genere, entra nell'elenco dei generi e scegli la tipologia desiderata.
L'Opera è messa a disposizione dall'autore sulla base della presente licenza: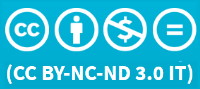 (Licenza di default del sito)
Elenco delle opere che condividono una o più tag con questa opera
Nota: vi invitiamo a
Questo indirizzo email è protetto dagli spam.
Attiva JavaScript per vederlo. eventuali termini o contenuti illeciti, scurrili o errati che potrebbero essere sfuggiti al controllo degli Autori o dello Staff.