Urrh, Cum Commentis — Excerpts (Impressions On Etymological Canvas)
Tempo di lettura:
circa un'ora
40 visite dal 24/09/2019, l'ultima: 1 mese fa.
Descrizione: This is only very shortened variant (6 %), intended for first look at one enormous scientific book, the nearest genre to which is etymology, but not only. This is a book about Creation viewed through the words, also philosophical book, and so on.
Incipit: This book is not what you might think it is, because it isn't work of fiction, neither dry etymological research, nor philosophical essay, but has elements of all this and something more. You may think it is some popular etymology (guide around the interesting world of words), though certain ideas that I give here are beyond any etymology and I also work in several languages (like: English, German, Bulgarian, Russian, French, Italian, Latin, Greek, even Persian and Sanskrit). …
(se
Leggi e ascolta
non funziona bene,
←
clicca e scarica il documento originale (

info
))
Recensioni
:
0
di visitatori,
0
totali.
Vuoi pubblicare il primo commento per questa opera? Scrivi qui la tua recensione o commento...
Nota: Scrivere recensioni e commenti alle opere è uno dei motori principali di questo portale artistico. È solo grazie a esse che, infatti, gli autori possono migliorarsi e i visitatori orientarsi. Se sei un autore, inoltre, scrivere recensioni e commenti a opere altrui incentiverà i destinatari a fare altrettanto con le tue.
Nota: le recensioni e i commenti devono essere lunghi almeno 30 battute e devono riguardare il contenuto dell'opera, meglio se critiche, costruttive e collaborative. Saranno eliminate dallo Staff le recensioni se saranno: offensive, volgari, chiacchiere e (se scritte da visitatori) presunte autorecensioni dell'autore o banali "bello, mi è piaciuto".
Nota: le recensioni e i commenti sono tuoi e modificabili per 2 giorni, dopodiché diventeranno di proprietà dell'autore che hai recensito o commentato.

NO JAVASCRIPT
NO BUTTON
Recensisci / commenta
un'opera a caso
.
Nota: per vedere un'opera a caso di un particolare genere, entra nell'elenco dei generi e scegli la tipologia desiderata.
L'Opera è messa a disposizione dall'autore sulla base della presente licenza: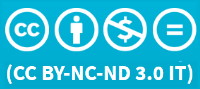 (Licenza di default del sito)
Elenco delle opere che condividono una o più tag con questa opera
Nota: vi invitiamo a
Questo indirizzo email è protetto dagli spam.
Attiva JavaScript per vederlo. eventuali termini o contenuti illeciti, scurrili o errati che potrebbero essere sfuggiti al controllo degli Autori o dello Staff.