Chosen Chris Myrski (Non-Fiction Collection)
8 visite dal 03/11/2020, l'ultima: 6 mesi fa.
Descrizione: In English. After more than a 1/4 of century literary work I have made this chosen collection of non-fiction works (papers, parts of books, essays), that I have translated in 3 languages (English, Russian, Bulgarian), each in 4 volumes.
Incipit: In English. (Cont.) The volumes are: 1. Communism Versus Democracy; 2. Market, Business, Economy, 3. Social Matters And Healthy Life, 4. Sundry Other Things. These topics are not strictly divided, nor ordered in the best manner, but now they exist and this is what matters. Probably it is good to say what I have left aside, how much. Well, about 10 percents, because I have almost nothing that is not actual in the moment, or can not become such later, if the situation changes.

è tra i primi 10!
Recensioni
:
0
di visitatori,
0
totali.
Nota: Scrivere recensioni e commenti alle opere è uno dei motori principali di questo portale artistico. È solo grazie a esse che, infatti, gli autori possono migliorarsi e i visitatori orientarsi. Se sei un autore, inoltre, scrivere recensioni e commenti a opere altrui incentiverà i destinatari a fare altrettanto con le tue.
Nota: le recensioni e i commenti devono essere lunghi almeno 30 battute e devono riguardare il contenuto dell'opera, meglio se critiche, costruttive e collaborative. Saranno eliminate dallo Staff le recensioni se saranno: offensive, volgari, chiacchiere e (se scritte da visitatori) presunte autorecensioni dell'autore o banali "bello, mi è piaciuto".
Nota: le recensioni e i commenti sono tuoi e modificabili per 2 giorni, dopodiché diventeranno di proprietà dell'autore che hai recensito o commentato.

NO JAVASCRIPT
NO BUTTON
L'Opera è messa a disposizione dall'autore sulla base della presente licenza: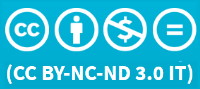 (Licenza di default del sito)
Elenco delle opere che condividono una o più tag con questa opera
Nota: vi invitiamo a
Questo indirizzo email è protetto dagli spam.
Attiva JavaScript per vederlo. eventuali termini o contenuti illeciti, scurrili o errati che potrebbero essere sfuggiti al controllo degli Autori o dello Staff.